The end of the second quarter is upon us and with the warmer weather comes the dreaded summer sales slump.  Sometimes this is a resource issue with your sales force on vacation, or it may be a marketplace issue with buyers just not making any decisions at this time of year.  Data supports that a sales team who actively manage time with a thoughtful approach spend 18.9% more time selling than those who don't.  
A study cited by Forbes describes the effects of failing to prioritize planning and wasting time on non-revenue generating activities like email.  Unfortunately, the same study highlights a huge issue with sales reps using CRM tools efficiently, and as a Salesforce fanatic, I can't begin to describe how that irks me.  But I digress, whether summer is historically a boom or a bust for your team, it's good to consider these things at the mid-year mark.  
1:  Take Note of YTD Sales Relative to the Sales Target
First things first, you must know where you stand mid-year.  Are your sales numbers in line with the year-end goals you set for the organization?  To be thorough, compile your YTD sales numbers and your Q3 and Q4 sales numbers from last year.  If you repeat last year's performance will you meet your year-end target? Has anything significant changed since last year?  New products and services or an increase or decrease in your salesforce are especially notable.
Go a step further and analyze sales activity for each team member.  Include monthly, weekly, and daily activity like calls, meetings, and emails from this time last year.  Is your team positioned to perform those same activities again? If you have one less salesperson, you'll need to distribute that load across the rest of the team.  If you have an additional resource you may need to adjust individual KPIs.
2:  Distill the Numbers Down
It is your responsibility to clearly define the targets for the balance of the year.  It's much easier to close two deals a week for the next 12 weeks than it is to bring in $5M in new business before October.  Moreover, you should be able to define where the deals are coming from – net new accounts, upsales to existing accounts, accounts targeted for a specific product or service, etc.

3:  Anticipate Barriers and Bust Them
After thinking about where these accounts originate, it's important to identify any obstacles the sales team is going to face and equip the team to overcome them.  Any data you can compile on lost deals or prospect objections can help the team create a list of barriers and talking points or strategies to counter them.
If you have internal obstacles to consider, a lack of resources or misaligned marketing strategy as examples, you must resolve those issues to position your sales team for success.
4:  Create a Plan
Once the team has a detailed understanding of the numbers that need to be met, how they break down, and the barriers they may run into, you have everything you need to form a plan of attack.  For each goal, there must be an associated strategy and activities that are necessary to execute that strategy and meet the goal.   Think of this as a project plan for your sales team.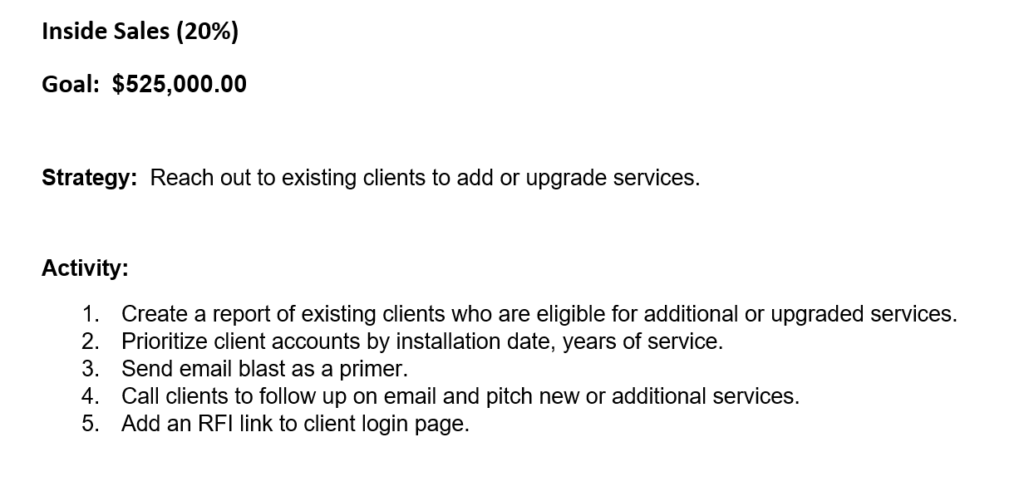 A detailed plan will help the sales team to manage their time effectively and give them actionable tasks for reaching their sales goals.
5:  Align with Marketing
Even if you think your sales and marketing teams are fully aligned, mid-year is a great time to review the current sales numbers, annual targets, and the sales strategy with the marketing team.  This gives the marketing team a chance to refine any planned campaigns or add to their existing plan to support the goals of the sales team.
These five steps are designed to help you crush your annual sales goals no matter where you find yourself at the end of the second quarter.  Completing this process also creates space for important conversations with your sales team and provides a great opportunity to sync up with the marketing team.  This proactive approach can save you from the third quarter panic that sometimes sets in after summer vacations are over and reality hits. Don't let these summer months pass you by, learn more about our apPROach here.